What is the human skin microbiome and ecosystem
The skin's microbiome consists of living components such as human skin cells but also a community of mainly bacteria and some viruses, fungi, and mites.
The nonliving components include lipids, salt, and cellular debris. This ecosystem has an acidic, humid, and low-temperature environment.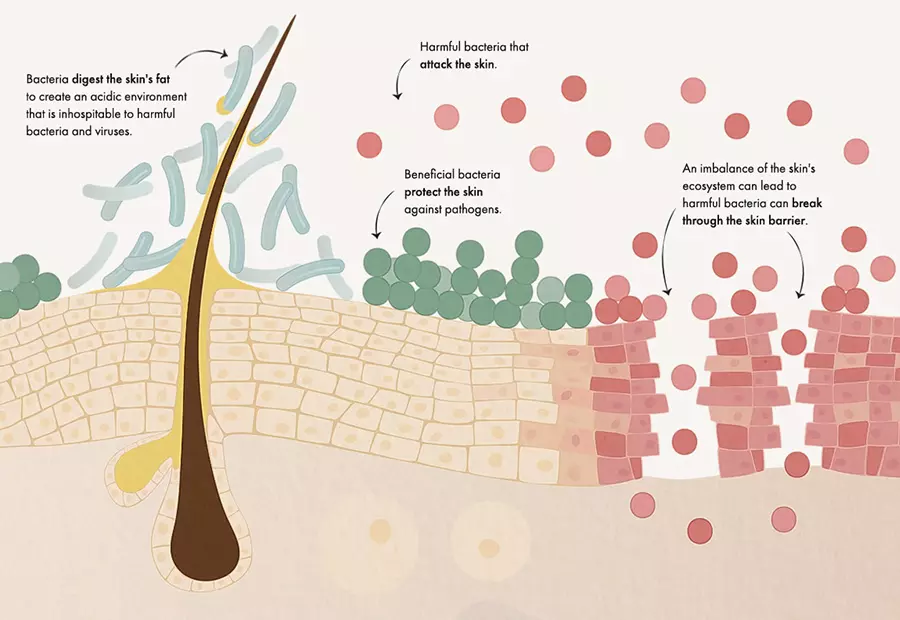 The influence of the microbiome on skin's aging
Any imbalance of the beneficial bacteria on the skin or a lack of skin fat on the surface can lead to a change in acidity and protection. The result is a damaged acid mantle, which enables harmful bacteria to enter the skin, causing skin alterations and moisture loss.
The continued imbalance of the skin's protective ecosystem can also negatively impact crucial functions such as optimal cell regeneration, skin metabolism, and self-defense mechanisms against free radicals. Not only incorrect cleansing has a detrimental effect on the skin's protective barrier, but also excessive peelings and acid treatments alter the natural balance of the microbiome and the hydrolipidic film. Over time, an alteration of the skin's protective ecosystem can lead to premature skin aging.
How to cleanse the skin without damaging its ecosystem
The skin constantly purifies itself by eliminating dead skin cells as well as metabolic residues and dirt thanks to various bioenzymes. However, as our skin is often exposed to environmental dirt, pollution, and makeup, water alone is not enough to remove dirt from the skin's protective barrier, which is also called the hydrolipidic film.
Natural as well as synthetic soap have a negative impact on the microbiome of the skin and their application on the face should be avoided.
They remove the natural skin fat, alter the pH of the skin, and deposit residues on the hydrolipidic film.
Ingredients that strengthen and protect the skin's microbiome
In order to strengthen and protect the skin's barrier, we need to cleanse with ingredients that are compatible with our skin microbiome: cold-pressed oils, medicinal clays, wholeplant extracts and essential oils.
These ingredients, together with the ideal cleansing technique, remove dirt, pollution, and makeup without stripping the natural skin fat and beneficial microorganisms from the skin's surface.