UV protection
We are exposed to different types of Ultraviolet Radiation (UV), mainly UVA and UVB.
UVA
95% of the UV radiation is UVA rays. UVA rays maintain the same level of strength during daylight hours throughout the year, and they can cause fine lines, wrinkles, dark spots, flaccid skin, and skin cancer.
UVB
5% of the UV radiation are UVB rays. UVB rays are largely responsible for sunburns and also skin cancer. The skin synthesizes vitamin D from exposure to UVB rays.
Sunscreen products that pass the broad spectrum test protect against both UVA and UVB rays.
The SPF rating indicates the protection from UVB rays. It is not a linear scale and the higher the factor the less difference in protection. If the product label explicitly mentions "UVA" or the term "broad spectrum", then the sunscreen contains UVA protection that accounts for at least one-third of the SPF number. For example, a broad spectrum SPF of 30, has an SPF of 30 against UVB rays and at least a value of 10 against UVA rays.
High SPF sunscreens usually offer greater UVB than UVA protection, which can give you a false sense of security.
Biological sunscreen filters on the contrary can provide a higher protection against UVA radiation as they also act from within the skin.
There are also important risks and disadvantages associated with high SPF factors as they can reduce vitamin D synthesis, which can lead to a disruption in the skin's metabolism. This interference can inhibit skin regeneration and provoke or aggravate brown spots and melasma.
No matter how high the SPF number is, you still need to reapply sunscreen every 2 hours to ensure optimal protection. Keep in mind that exposing your skin to the sun during peak hours can damage your skin, even if you don't get sunburned.
Different types of sunscreen
To protect ourselves from the sun, we can choose from three different types of sunscreen that filter UV radiation: chemical, physical, and biological filters. Cosmetic sunscreen products often combine two or all three of these filters to increase the overall benefits.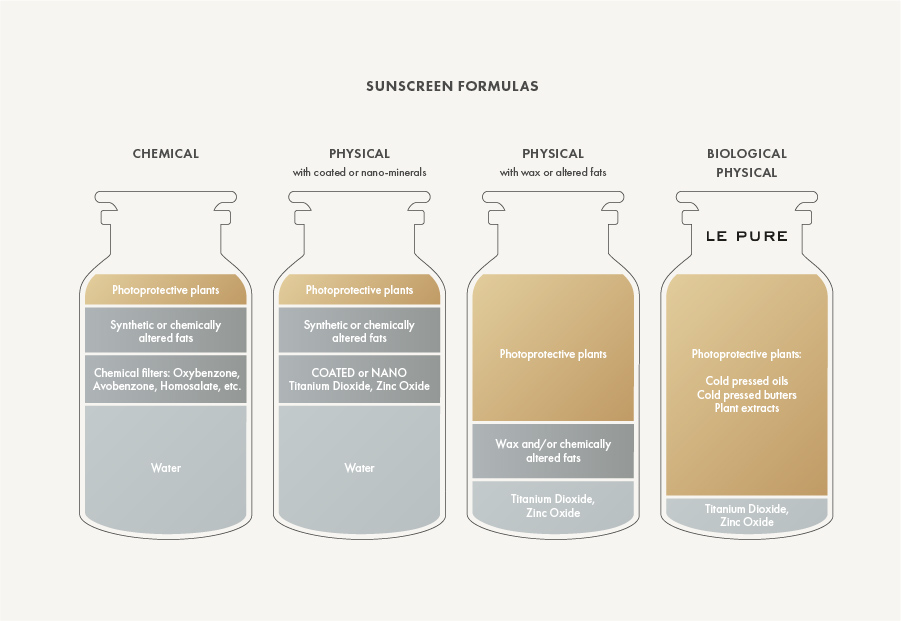 Chemical sunscreen
Chemical sunscreen filters use industrial chemicals to prevent UV rays from entering the skin by absorbing the rays with a chemical reaction.
They can have a high SPF without leaving a white cast on the skin. Unfortunately they cause an accumulation of suspicious chemicals in the skin.
This is especially dangerous when they are applied regularly, as these chemicals can be absorbed through the skin. The active ingredients of chemical UV filters are ingredients such as oxybenzone, which are estrogenic, meaning they mimic oestrogen in the body. Numerous studies have linked this kind of hormonal disruption to cancer, endometriosis, and hormonal skin darkening (hyperpigmentation).
These industrial chemicals build up in the skin and disrupt its metabolism, cell regeneration and the skin's self protection from free radicals.
They also hinder the correct synthesis of vitamin D through the skin, which is crucial for the correct functioning of the melanocytic cells and the prevention of brown spots.
Chemical UV filters also contaminate the water and the environment. Just a single drop of oxybenzone in an Olympic-sized pool kills corals and marine life. Therefore, these UV filters have already been banned in various regions and countries. It is very clear that due to health and environmental reasons, chemical UV sunscreen is not an optimal choice, especially not on a daily basis.